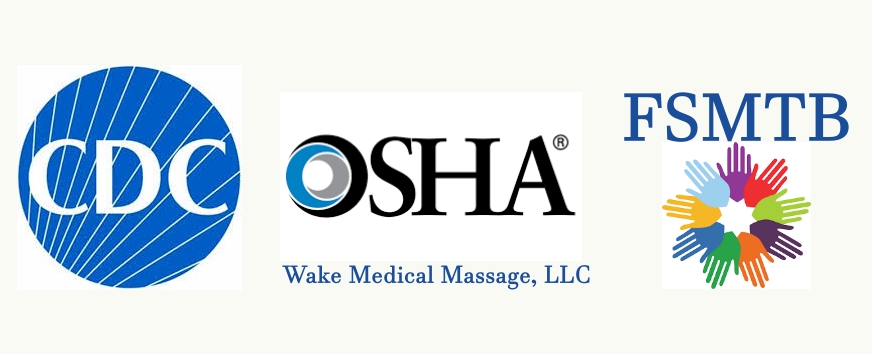 Dear Client,
We hope this finds you and your family in good health. While many things have changed, one thing has remained the same: Our commitment to your safety and health.
By its very nature, massage and bodywork and Manual Lymph Drainage - MLD requires skin-to-skin contact and you should be familiar with the fact that infection control has always been a top priority for our practice. As we navigate life with additional requirements and modify existing measures due to the coronavirus, please help us to support all of our clients by cooperating with some new requirements.
Our business follows and practices the guidelines recommended by the Federation of State Massage Therapy Boards (FSMTB), along with infection control recommendations made by the U.S. Centers for Disease Control and Prevention (CDC), the Occupational Safety and Health Administration (OSHA), the medical experts, and the North Carolina Department of Health & Human Services (NCDHHS).
NOTE: If you feel sick, please cancel your appointment. Please remember that many of these changes are temporary. We can not do business as usual since this is an unusual time.

You may see some changes when it is time for your next appointment. We made these changes to help protect our clients and ourselves. For example:
We will communicate with you beforehand to obtain updates to your health information and ask you specifically about your potential exposure to COVID-19.
When you arrive at the office, we'll ask you if you have developed any symptoms of illness since we spoke on the phone. If you feel ill on the day of your session, there is no penalty for canceling your appointment. Massage is not advised if you have any symptoms of illness.
Please bring a face mask to use while you are in the building, and during your massage or MLD therapy. If you do not, one will be provided. EVERYONE (therapist, client, and parent/guardian) will be required to wear a mask at all times. We understand this will feel different, but we need to keep ourselves safe so we can remain healthy and continue to work. It is also important for the health of other people who may be more susceptible to infection. Please remember, as long as Covid-19 is in effect and only one of us is wearing a mask, we'll not provide our services.
We will ask you to sign an informed consent form that states, "I understand that close contact with people increases the risk of infection from COVID-19. By signing this form, I acknowledge that I am aware of the risks involved and give consent to receive a massage, bodywork, or MLD therapy from this practitioner."
There is a hand hygiene station that we will ask you to use when you enter the office. You will also find hand sanitizer in the office for you to use as needed.
Based on research findings, the COVID-19 virus is spread by droplets during talking, sneezing, coughing, and regular breathing, we recommend that the client and therapist limit talking during the massage or MLD session. Wearing a mask during the massage or MLD session will also help, but we are still researching ways to make it safe for you to temporarily remove your mask when face down during a massage or MLD therapy.
You will notice the air purifier system at our practice. This is a highly efficient purifier that has a True HEPA filter with a carbon filter to help make the air safer.
Please understand this has taken a lot of thought and research to put together, and these things are only part of our plan. Your therapist at Wake Medical Massage is trained to follow the new protocols and policies without exceptions. We understand that some people may not like parts of this plan, and some may decide not to return for massage or MLD therapy until those parts are relaxed/eliminated. We hope it will not be long before that can be achieved.
NOTE: For those who are immunocompromised and those who are otherwise particularly susceptible to respiratory infections or blood clots, We recommend that you delay getting massage or MLD therapy for now. There is ongoing research that will provide greater clarity regarding safety and risk mitigation over the next few months, and we will welcome you back when it is appropriate for us to do so.
We look forward to seeing you again and are happy to answer any questions you may have about the steps we take to keep you, and every client, safe in our practice. To make an appointment, please call our office at 919.228.9559.
Thank you for being our client. We value your trust and loyalty and look forward to welcoming you back to a safe, therapeutic touch environment.
Sincerely,
Shashi Lodhia CMLDT, LMT, NC LMBT
Wake Medical Massage, LLC
Open by appointment 7 days a week 9 AM - 8 PM (New clients please read Hours & Location Page). We are temporarily limiting MLD treatments for certain conditions and will resume normal operations of this service when it is safe to do so. Please call and leave a message if you would like to schedule a FREE no-obligation phone consultation. We will be checking our messages and will get back to you during our business hours. Stay healthy and hope to see all of you soon! Check back often as this website will be updated frequently.
PLEASE NOTE: Mobile Massage and Chair Massage service is on hold due to covid-19 restrictions
Client intake form can be completed when you come for your treatment session, but it is also available here by clicking on the animation. Download, print, fill and bring the form to your appointment.