Therapeutic Healing • Musculoskeletal Pain - Sprain, Strain, or Spasms • Post-Surgical Swelling • Trigger Points (Knots) and Myofascial Release • Stress and Anxiety Relief • Non-invasive Drug-Free Manual Therapy to Improve Mobility • New Client Special* • Complimentary Phone Consultation • Appointment - 919.228.9559
At Wake Medical Massage, the focus is on treating musculoskeletal and neurological disorders using Certified Medical Massage and Manual Lymphatic Drainage (Vodder Technic) MLD therapy. We provide one-on-one, evidence evidence-based manual therapy treatment sessions to help facilitate your recovery and return to activities of daily living (ADLs), work, recreational activities, and even competitive sports.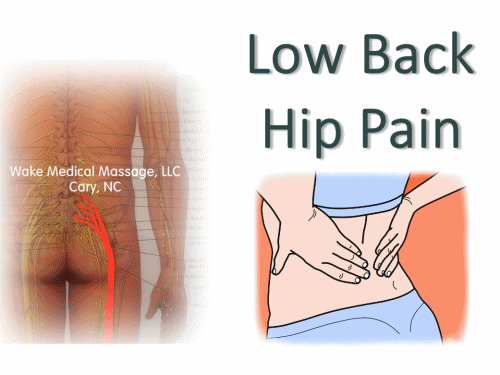 Did you know...
Even a less demanding activity such as improper sleeping posture, prolonged sitting, lying down, and standing in an uncomfortable position can cause chronic jaw (TMJ & ligament), neck, and shoulder sprain, strain, or spasms
Carrying heavy weights and repetitive movement can add sprain, strain, and stiffness on the upper (neck and shoulders) and lower back (hip flexors, glutes, hamstrings, quads, IT band) including knees and feet.
For plastic/cosmetic post-surgical swelling, bruising, soreness, pain, & stiffness, non-invasive Certified Manual Lymph Drainage (MLD) - Vodder Technique, commonly known as Lymphatic Drainage Massage, provides much-needed relief and flexibility.
To help relieve these conditions, The American College of Physicians, WebMD, including medical doctors, chiropractors, and physical therapists are recommending massage therapy - a drug-free, non-invasive Complementary and Alternative Medicine (CAM). Talk with your healthcare practitioner about your need for medical massage and MLD therapy in treating your soft-tissue condition.
Call us for a complimentary phone consultation. Triangle's leading soft-tissue specialist at 919.228.9559
Massage therapy should be thought of as preventative care – think of the benefits of regular physical workout, dental checkup, cleaning and brushing your teeth, oil change in your car, etc. Invest in your wellness with regular soft-tissue therapy from a well experienced and licensed medical massage therapy provider to prevent a larger cost in the future. Call us today to start your therapeutic relief process - 919.228.9559 Cary, NC.
By appointment • New client special* Learn More ►
Medical/Clinical Massage • Lymphatic Massage/Manual Lymph Drainage MLD (Vodder Technique) • Deep Tissue/Myofascial Release (MFR) • Trigger Point/Neuromuscular Therapy (NMT) • Injury - Auto, Work, Sports Massage • Fibromyalgia Massage • Headache Massage • Sports Massage • TMJ - Jaw Pain Massage • Geriatric Massage • Swedish Massage • Mobile Massage • Chair Massage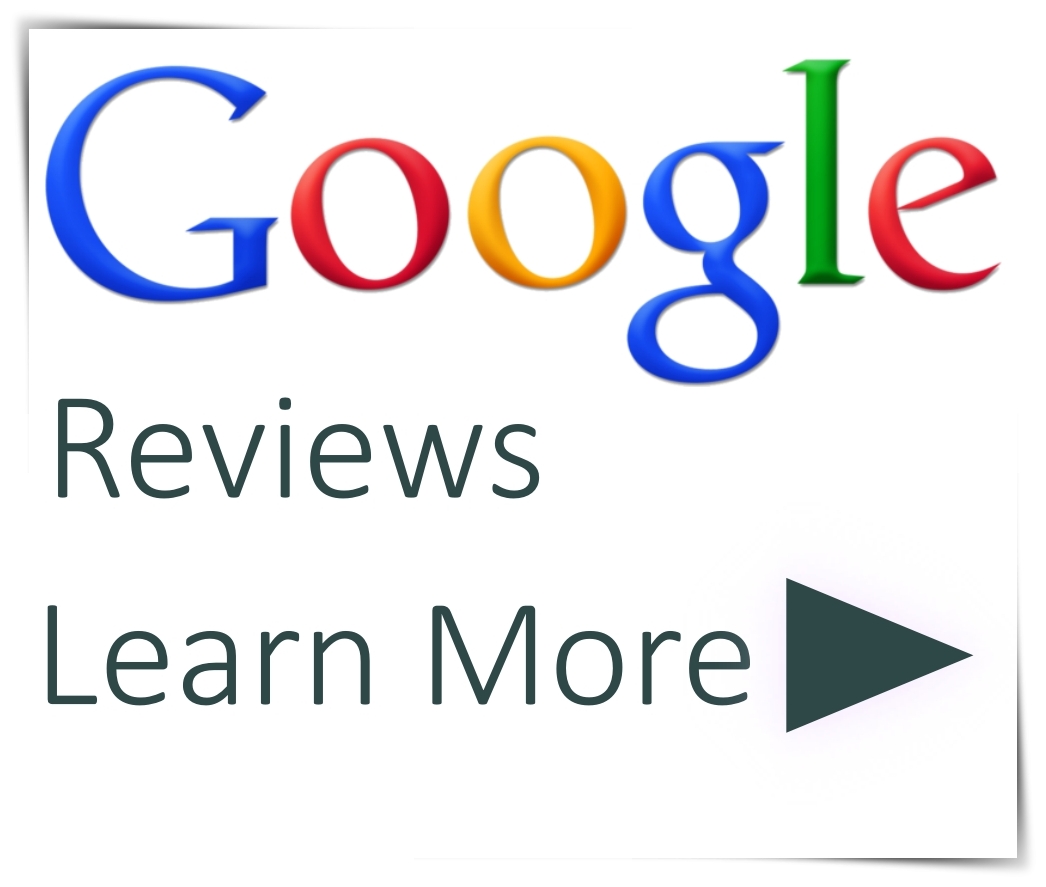 Medical Massage Therapy integrated with Myofascial Release and Trigger Point Techniques is beneficial in treating conditions such as:
Head • Neck • Shoulders
Headaches/Cranial/Neck sprain/strain
Spinal Stenosis/Cervical Herniated Disc sprain/strain
Cervical Spondylosis/Osteoarthritis
Jaw Pain - Temporomandibular Joint - TMJ Dysfunction
Trigger Points/Knots
Auto & Work Injuries
Shoulder - Bursitis/Supraspinatus/Infraspinatus injury
Frozen Shoulders/Thoracic Outlet Syndrome/Adhesive capsulitis
Rotator Cuff Injury/Post Surgery
Muscular irritation (Myofascial Pain)
Lessen Anxiety/Depression/Insomnia
Upper & Lower Back
Whiplash
Pectoral Strain
Fibromyalgia
Spinal Stenosis
Scoliosis & Kyphosis
Muscle Strain/Sciatica
Pain due to the restricted fascia
Sacroiliac (SI) joint pain - Sacral - Hip Flexor Pain
Low Back - Lumbar Pain
Trapezius Stiffness
Auto & Work Injuries
Pain due to injury or bulged spinal disks
Upper & Lower Extremities
Scar Tissue
Arthritis stiffness
Tennis/Golfer's Elbow
Carpal Tunnel Syndrome
Piriformis Syndrome
Auto & Work Injuries
Iliotibial Band (ITB) Syndrome
Hamstring/Quadriceps strain
Brachial Plexus - Thoracic Outlet Syndrome
Adductor strain
Knee pain
Shin splints
Strained ankle
Ligament Sprain
Achilles Tendinitis
Drop Foot
Foot Pain/Plantar Fasciitis
Tingling & numbness
Paresthesias & Nerve Pain
Pins & Needles feeling
Medical/Clinical Massage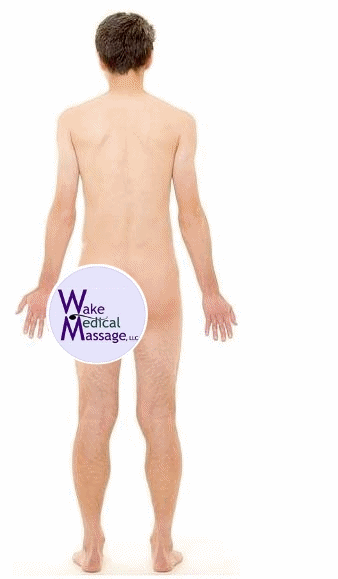 Medical Massage, also known as Clinical Massage, refers to therapy (a Complementary and Alternative Medicine - CAM) prescribed/suggested by a healthcare professional, and the massage is performed following the directives of that professional. This drug-free non-invasive manual therapy treatment is applied to the specific situation after an evaluation is performed by the therapist to help recover from painful soft-tissues and joint conditions and avoid the onset of chronic pain. Medical massage therapy is helpful for situations such as headaches, jaw pain (TMJ & Ligament), neck, shoulders including rotator cuff, low-back pain, sciatic pain, piriformis syndrome, tendonitis, fibromyalgia, and Peripheral neuropathy (PN). This refers to damage in the peripheral nervous system, which can include both spinal and cranial nerves. Pain - ranging from itching and tingling to severe burning sensations. Example - people with diabetic neuropathy condition. Customized myofascial release including trigger point therapy may be applied for such conditions. As with all forms of massage therapy, open communication during the session is encouraged. Call 919-228-9559 to start your relief!

Note: If you have a medical condition and are unsure whether medical massage therapy would be appropriate for your healing process, discuss your concerns with your healthcare professional. Learn More ►
Deep Tissue Massage - Myofascial Release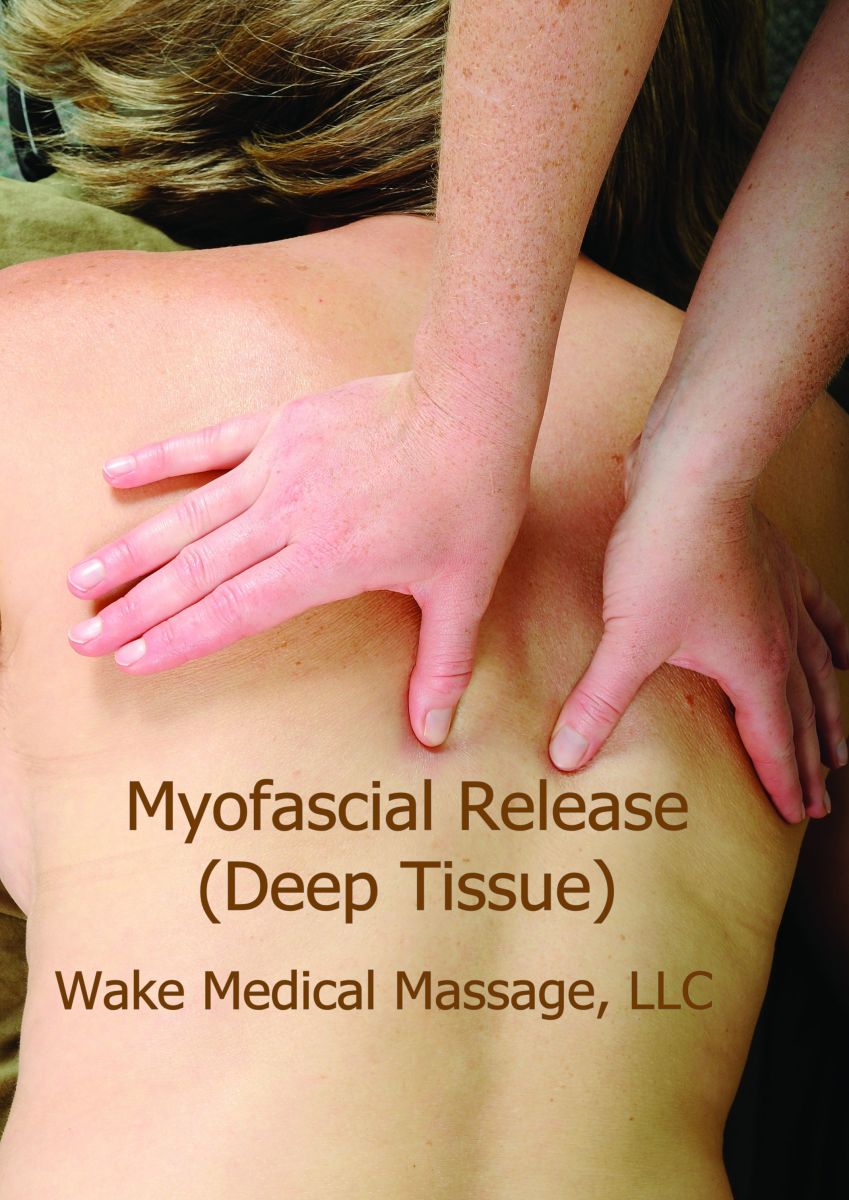 Deep tissue massage is comparable to Swedish massage but the implementation of deeper muscle-group manipulation assists in managing stiff chronic muscle tension in your body. After a thorough intake process including a range of motion and soft-tissue assessment, your therapist at Wake Medical Massage will apply customized slow deliberate strokes integrated with a myofascial release technique that focuses on deeper layers of affected soft-tissues. Though less rhythmic than other types of massage, deep tissue technique can be quite therapeutic - relieving chronic patterns of tension and manage muscle sprain and strain.

Clear communication between client and therapist during the session must be maintained to help alleviate discomfort. When performed by a well experienced medical massage therapist, the myofascial release technique is corrective, therapeutic, and calming! Call (919) 228-9559 for an appointment. Learn More ►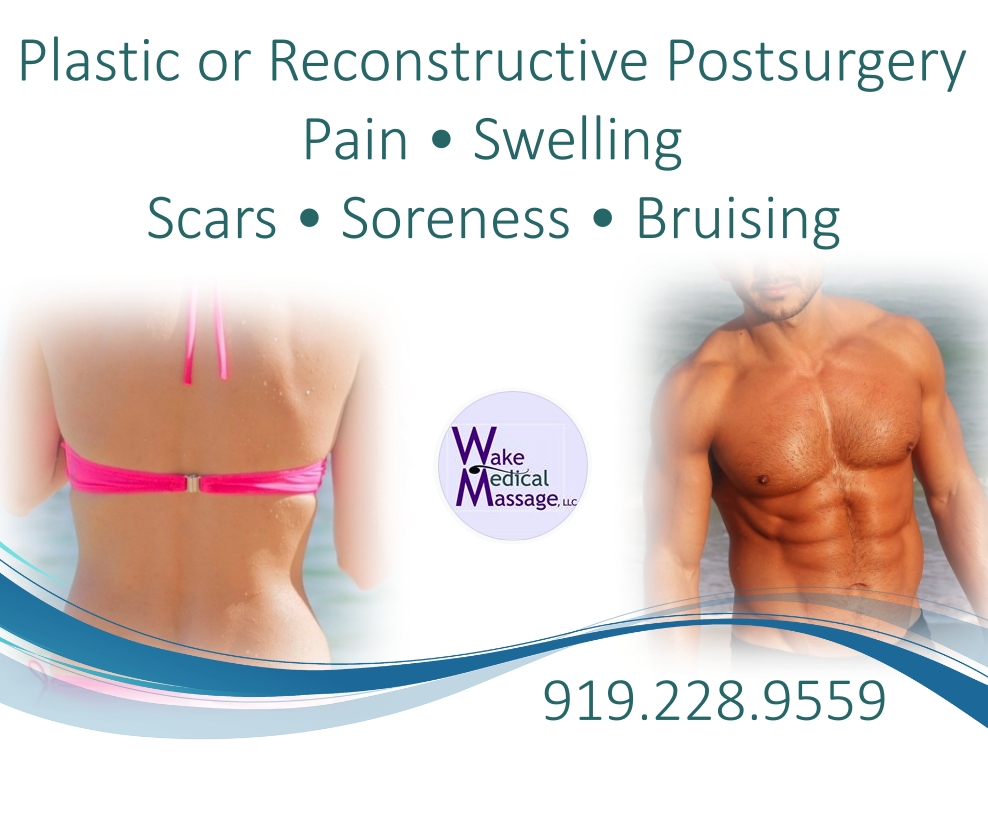 Certified Manual Lymph Drainage MLD (Dr. Vodder Technique) CMLDT • Lymphatic Drainage/Oncology Massage - We offer safe non-invasive Manual Lymphatic Drainage (MLD) treatment (also known as Lymphatic Drainage Massage) using Certified Dr. Vodder Method for the management of edema of various geneses including post-traumatic and post-surgical; as well as several pathologies such as fibromyalgia, chronic fatigue syndrome, migraines, chronic pain reduction, and others. This technique helps with improved lymph flow, boost Immune system, reduction of swelling, and faster recovery from surgeries such as cancer surgery & treatments, cosmetic/plastic surgery including - tummy tuck, liposuction, coolsculpting, liposculpture, facelift, produce relaxing effects on the sympathetic nervous system, improved calming effect on the muscles, body detoxification and more.
Certified (MLD®) is a specialized skill that requires competence. Deep, heavy-handed massage should be avoided because it may damage tissues and exacerbate edema by increasing capillary filtration. Relief starts by calling 919-228-9559. Learn More ►
Injury - Auto • Sports • Work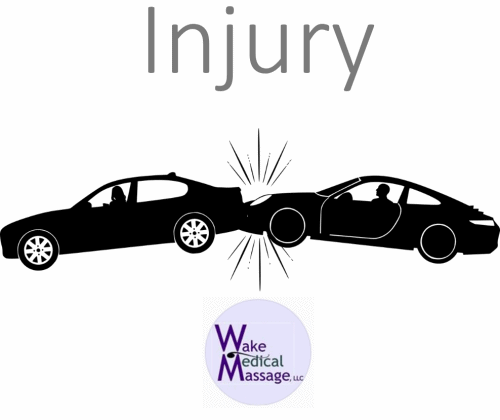 Pain and trauma after an automobile and nonfatal accidents, sports or work injury usually accompany not only physical scars but also emotional wounds. Wake Medical Massage offers Clinical Massage to relieve and improve soft-tissue pain, scars, swelling, and range of motion. We will partner with you all the way to full recovery. We will assess, customize a treatment plan, and work towards relieving the deepest sources of pain. We are open 7 days a week and affordable!. Take that first step now - relief is just a phone call away. Call to set your appointment at 919.228.9559. Learn More ►
Trigger Point (Knots) Pain
Relief for Tender Muscle Knots - Area with muscle contraction and extremely irritable spot/s that can be painful and restrict the range of motion. Call 919-228-9559 for an appointment. Learn More ►
Sports Injury • Sprain, Strain, or Spasms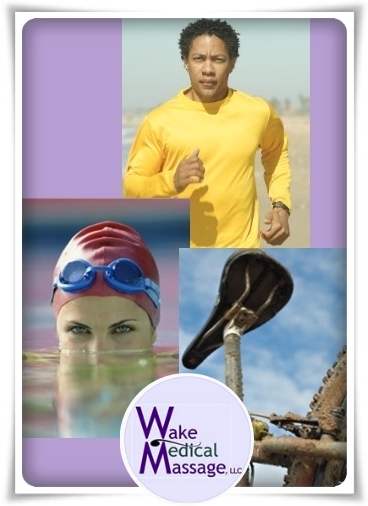 In the course of physical activity, stress and tension builds in the body's soft-tissues and can cause discomfort preventing your physical development. At Wake Medical Massage, your professional sports massage therapist will apply appropriate muscle manipulations to address aches & sores from extreme workout routines and help achieve your goal - increased range of motion and flexibility. Sports Massage therapy improves blood circulation, promotes recovery from injury, and can be customized to your body's needs: Pre and post-event massage, massage targeting specific tight muscle groups. Your session may include passive (assisted) and active (non-assisted) stretches. Regular sports massage therapy can help maintain a sense of well-being. Call 919-228-9559 for an appointment. Learn More ►
Headache/Scalp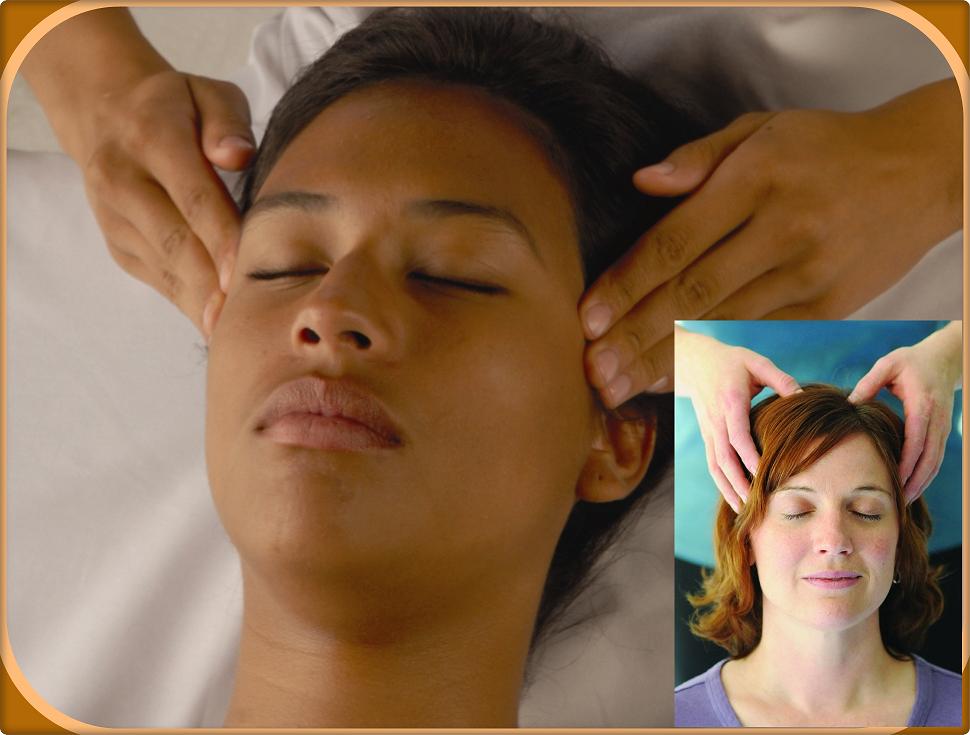 Head massage, also known as Scalp Massage is focused on the cranial, neck, and shoulders where stress and tension commonly gather. This modality of massage therapy explores to alleviate stress from chronic injuries as well as provide relief from migraine headaches, neck and back pain, temporomandibular joint - the joint that connects the lower jaw to the skull, and more. At Wake Medical Massage, your therapist will employ a combination of fingertips and palm manipulation techniques incorporating pressure points leaving you feeling relaxed and refreshed. Cranial massage is beneficial for all ages and is amazingly soothing and nurturing, yet totally invigorating. Call 919-228-9559 for an appointment. Learn More ►

The art of Ayurvedic head massage originated in India more than 4000 years ago and has been used over the years as a relaxing and grooming technique to help relieve tension and stress while improving the wellness of the hair.
Jaw (TMJ & Ligament) Sprain/Strain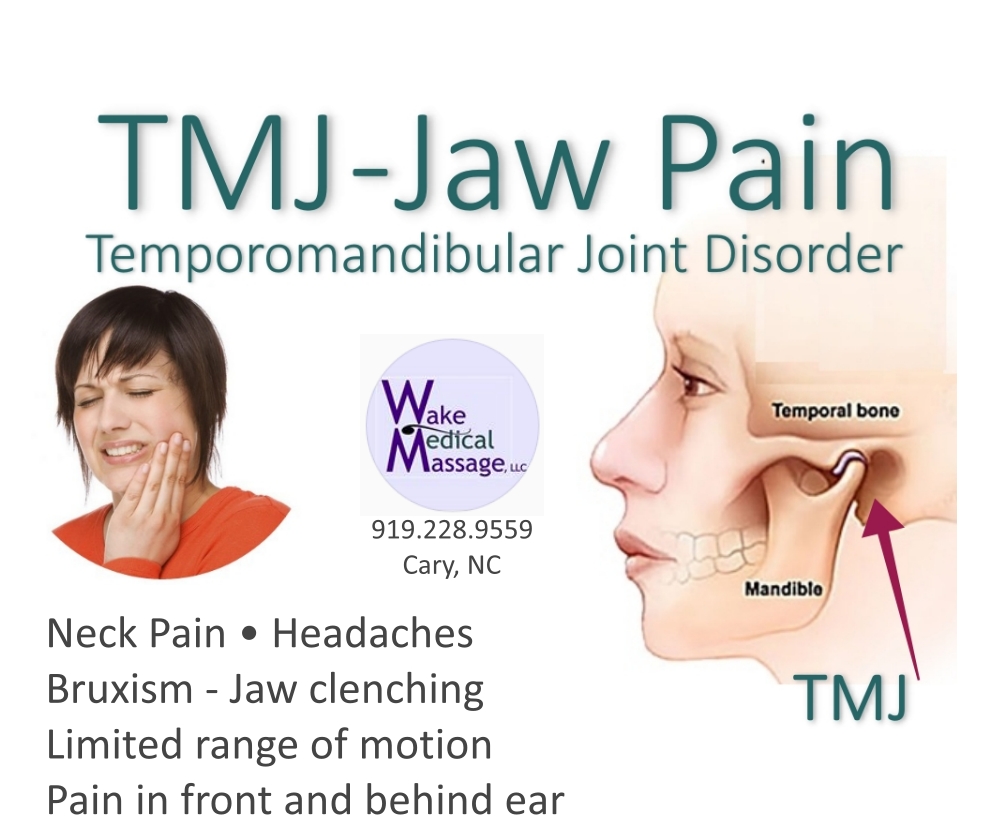 TMJ massage is one of the most amazing modalities in relieving soft-tissue pain, sprain, and strain around the jaw to help you talk, eat, and open your mouth wider (such as yawn or for dental procedures). This modality includes myofascial release technique and trigger point therapy to relieve the neck, shoulders, head, and the muscles of mastication. With the very first session, most people tend to notice relief from:
✓ Pain that travels through the face, jaw, or neck
✓ Stiff jaw muscles
✓ Limited movement or locking of the jaw
✓ Painful clicking or popping in the jaw
✓ A change in the way the upper and lower teeth fit together
Call 919-228-9559 for an appointment. Learn More ►
Swedish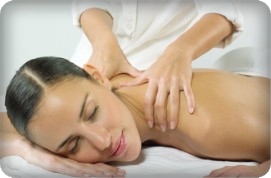 Integrative (Swedish) massage is probably the most widely recognized form of massage. This massage technique is typically characterized by long, flowing strokes on the legs, arms, back, and shoulders, with more specific work (kneading and gentle manipulation of soft-tissues, and deeper work in places where tension or muscle knots exist). Swedish massage stimulates the skin and the nervous system at the same time. This modality helps relieve stress, both emotional and physical, and is suggested in a regular program for stress management. This technique also lessens the recovery period from muscular strain by flushing the toxins from muscle tissues while increasing blood circulation without increasing heart load. Call 919-228-9559 for an appointment. Learn More ►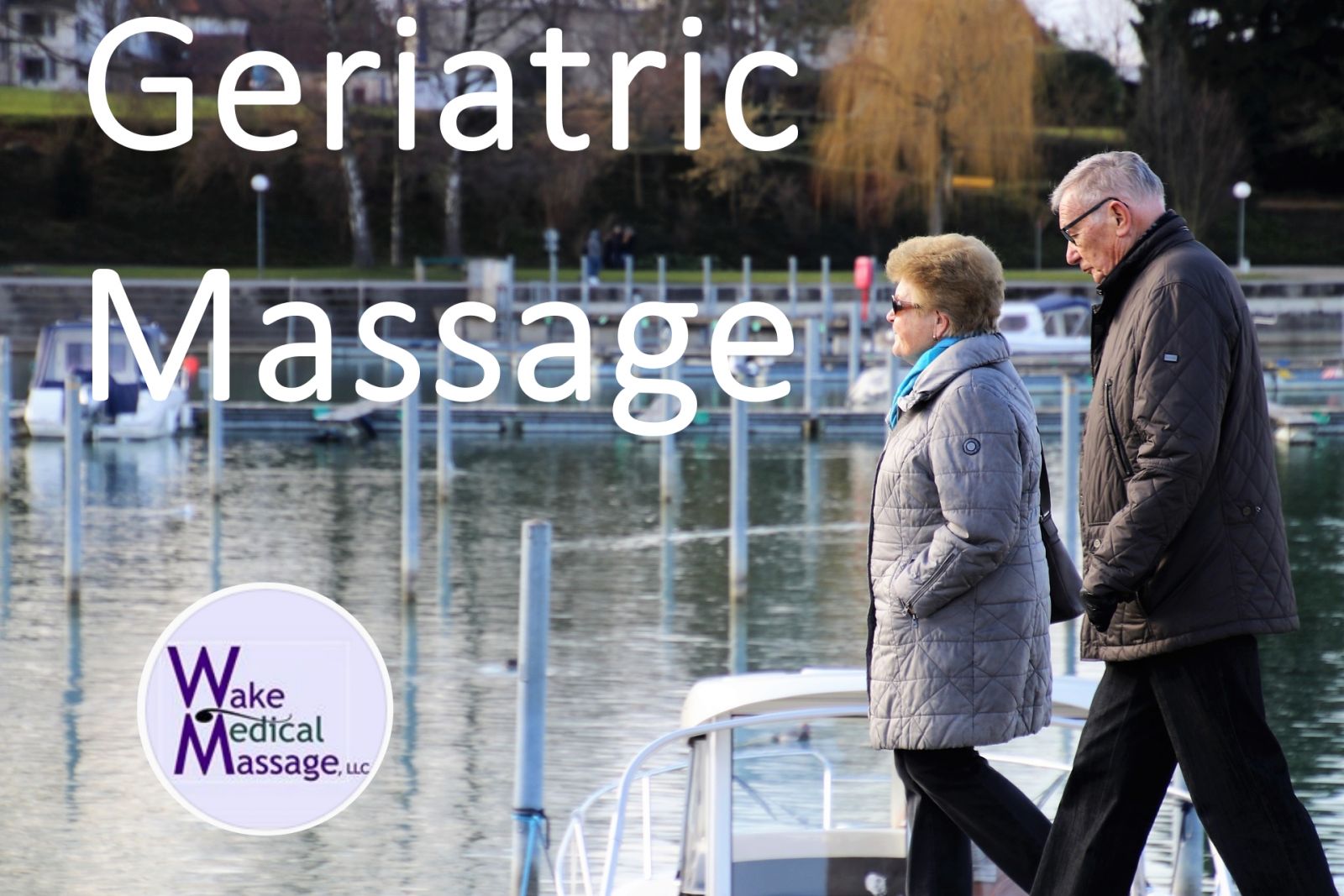 Geriatric
Therapeutic massage for the elderly. Visit our Geriatric Massage Service page. Call (919) 228-9559 for an appointment. Learn more ►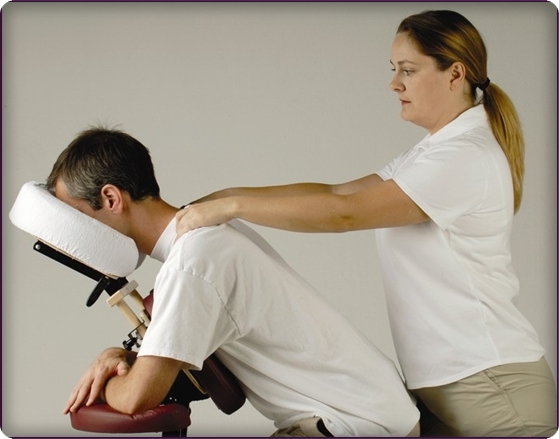 Chair Massage - We offer chair massages at your work or special event. Visit our Chair Massage Service page to Learn more ►
Mobile Massage/Out-Call - Are you looking for the Triangle's best professional mobile massage or traveling massage therapy to come to your residence, hotel, assisted living, or corporation to take care of your chronic pain and stress relief? Call (919) 228-9559 to have relief on your way! Learn more ►
A contraindication is an any physical, emotional, or mental condition that may cause a particular massage treatment to be unsafe or detrimental to your well-being. If you are under a physician's or medical professional care, check to make sure massage therapy is not contraindicated.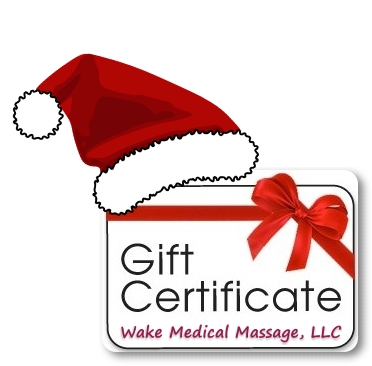 100% hands-on non-invasive manual therapy treatments. For your safety and hygiene, especially during the pandemic, we do not cut corners by utilizing risky mechanical tools including plastic Thumbsavers, Guasha, and Metallic Instrument-Assisted Soft-Tissue Mobilization tools - IASTM Learn More ►. Safety and Sterilization is the law for use of any tools. That is why so many of our clients continue to rely on our strictly hands-on alternative therapies to gain full recovery while noticing their benefits last a lot longer than they might otherwise from a clinic with numerous costly tests, non-certified tools, or machines. Call 919.228.9559 today to get started.
Please Note: Massage therapy is not a cure-all, a replacement for conventional care or other forms of medical care. If you have a medical condition and are unsure whether massage therapy would be appropriate for you, discuss your concerns with your healthcare provider. However, when used in conjunction with a healthy lifestyle, massage therapy can be a vital tool in improving your quality of wellness.
Massage Basic Contraindications - Learn More ►
No referral needed for most conditions
Who can refer you to our therapy center:
Physician | Neurologist | Orthopedic, Vascular, & Plastic Surgeon | Podiatrist | Oncologist | Dentist | Chiropractor | Physical / Occupational Therapist | Nurse & Physician's Assistant
Complimentary Phone Consultation - Call 919.228.9559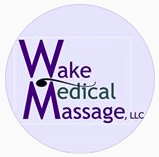 Proudly serving clients from Raleigh, Apex, Cary, Chapel Hill, Clayton, Durham, Garner, Holly Springs, Knightdale, Morrisville, Pittsboro, Raleigh, RTP, Sanford, Wake Forest, and surrounding North Carolina Regions.
Deep Tissue Massage • Massage Cary NC • Medical Massage Cary • Lymphatic Massage • Lymphatic Drainage Cary • Manual Lymph Drainage • Cary Massage Therapist • Massage Therapy Cary • Sports Massage Cary
* New Client Special - Applies to selected modalities
Photos: Courtesy of ABMP