Therapeutic Pain and Lymphedema Management • Myofascial Release • Trigger Point Therapy • Injury, Stress, & Anxiety Relief • Non-invasive Manual Therapy • New Client Special • Free Phone Consultation 919.228.9559 By Appointment 7 Days a Week
Is muscle pain or soreness due strenuous exercise or traumatic injury limiting your activities of daily living? But, did you know even a less demanding activity such as improper sleeping posture, prolonged sitting, lying down, and standing in an uncomfortable position can cause chronic neck, shoulder and back muscle pain and soreness? Also, carrying heavy weight and repetitive movement can add sprain, strain, and stiffness on upper (neck and shoulders) and lower back back (hip flexors, glutes, hamstrings, quads, IT band). To help relieve these muscle groups, The American College of Physicians including medical doctors, chiropractors, and physical therapists are recommending noninvasive treatments including massage (muscular) therapy - a Complementary and Alternative Medicine (CAM).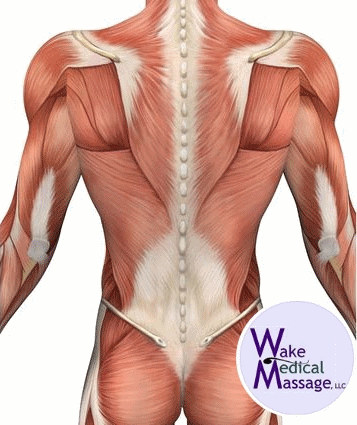 Massage therapy is the manipulation of muscle groups including connective tissue, tendons, ligaments and joints. Muscular therapy should be thought of as preventative care – think of changing the oil in your car or brushing your teeth. Make small regular investments to prevent a larger cost in the future. Call Wake Medical Massage, Cary NC to schedule your relief process from a Certified / Licensed Medical Massage Therapist 919.228.9559.
By appointment 7 days a week • New client special Learn More ►
Medical / Clinical Massage • Lymphatic Massage / Manual Lymph Drainage MLD® (Dr. Vodder Technique) • Deep Tissue / Myofascial Release (MFR) • Trigger Point / Neuromuscular Therapy (NMT) • Injury - Auto, Work, Sports Massage • Fibromyalgia Massage • Headache Massage • Sports Massage • TMJ - Jaw Pain Massage • Geriatric Massage • Swedish Massage • Mobile Massage • Chair Massage
Photos: Courtesy of ABMP