Are you looking to relieve athletic injury, strained muscle, boost endurance, performance, or improve range of motion? Call us to start seeing benefits of non-invasive manual therapy! 919.228.9559 • Open 7 Days - Extended Hours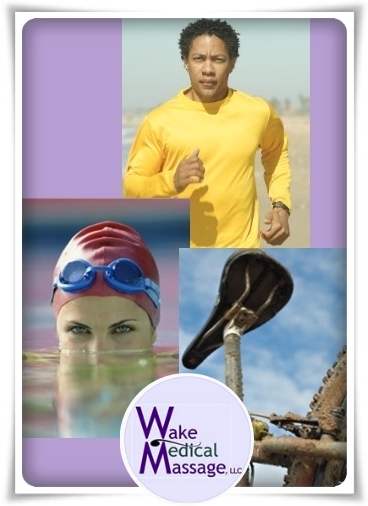 Sports massage, also called athletic massage, is tailored to help athletes of all kinds, from world-class professionals to weekend joggers, prepare their bodies for optimal performance, recover after a big event, or function well during training. Sports massage emphasizes prevention and healing of injuries to the muscles and tendons.

Athletic massage is also beneficial for people with injuries, chronic pain or restricted range of motion. You don't have to be an athlete to benefit from this modality. Call 919-228-9559 to start your relief!

A sports massage is a good choice if you have a specific problem - a tender knee from running, for instance. At Wake Medical Massage, your Certified / Licensed Medical Massage Therapist will focus in on the problem area - frozen shoulder or pulled hamstring, for instance - rather than giving you a full-body massage.
Open 7 Days a Week! Appointment in as little as one hour....Learn More ►
Your therapist at Wake Medical Massage will go over your needs and expectations and incorporate a variety of techniques to achieve the desired goals. We assess and concentrates on a specific condition or problem area that you present, usually associated with some sort of sports activity, such as cycling, running, tennis, golf and other common sports injuries.