Certified & Licensed Practitioner of Medical and Sports Massage & Bodywork • Certified Manual Lymph Drainage MLD® (Dr. Vodder Method) • Pain and Lymphedema (Edema) Management • Mayofascial & Trigger Point (Knots) Relief • Call 919.228.9559 Open 7 Days a Week - Extended Hours • 203 N. Harrison Ave, Ste 206 Cary, NC 27513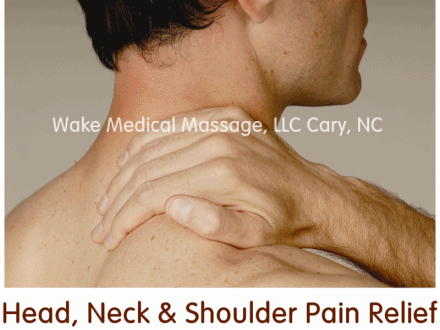 People of all ages, abilities, and injuries are increasingly turning to Clinical Massage Therapy, a nonpharmacologic (drug-free) treatment to improve an array of soft tissue conditions related to musculoskeletal system, such as headaches, cervical, thoracic, and lumbar sprain, strain & spasms, myofascial pain syndrome, neuromuscular trigger points (tense knots), nerve pain (neuropathy and/or radiculopathy), sciatica, and other issues. When soft tissue imbalance occurs, through daily activity or sudden physical trauma, this affects your organ systems, which includes muscle, circulatory, immune, nervous, integumentary, respiratory, digestive, and immune systems and can present itself with a wide variety of symptoms. When this occurs, contact Wake Medical Massage, LLC in Cary, NC Triangle's leading provider of non-invasive manual therapy - a natural form of health care! Also, Carolina's leading provider of MLD® therapy for Lymphedema management to relieve cosmetic post-surgery bruising, scars, swelling, including Oncology (Cancer) for post-surgery, radiation, chemotherapy, hormone therapy and targeted areas.
Open 7 days a week! Appointment in as little as one hour...Learn more ►
This isn't your ordinary SPA or a massage practice where the focus is mostly on relaxation. We are NC Board Certified / Licensed Medical & Orthopedic Massage & Bodywork and Certified Manual Lymph Drainage and Lymphedema Management (Dr. Vodder Method) therapists. We specialize in musculoskeletal and lymphatic drainage therapy (a recommended component of Complete Decongestive Therapy CDT for Lymphedema, Lipedema and other forms of swelling). Clinical Massage helps trigger release of pain-reducing hormones called endorphins (the feel-good hormones) that decreases stress, anxiety and other conditions. Call your specialists at Wake Medical Massage (919) 228-9559, Carolina's leading provider of soft tissue relief.