Looking to relieve post-surgical or post-traumatic swelling, scars, anxiety, and pain? Certified Manual Lymphatic Drainage (MLD) and Complete Decongestive Therapy (CDT) - Vodder Method are non-invasive manual standard treatment therapies for Lymphedema & Lipedema including plastic, reconstructive, orthopedic, oncology - cancer surgery & treatments, body cleans and more. Call 919-228-9559 • Open 7 Days - By Appointment • Extended Hours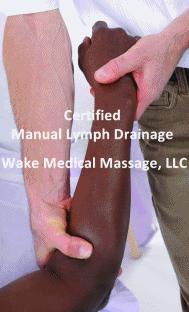 What is Certified Manual Lymph Drainage Therapy (CMLDT) / Lymphatic Drainage Massage and how can it help?
MLD is a precise, gentle, noninvasive treatment using Vodder Technique (specialized sequences of light hand strokes that feels like massage) aimed to encourage any localized swelling, a build up of lymph fluid in the tissue space, to be drained and rerouted efficiently and naturally into the healthy lymphatic vessels. More and more medical doctors are understanding the benefits of MLD and Complete Decongestive Therapies (CDT) offered at Wake Medical Massage for the management of swelling, a.k.a edema, of various geneses including postsurgical and post-traumatic conditions, Lymphedema, also known as lymphoedema and lymphatic edema, due to damage to the lymph vessels, including cancer and treatment for cancer, such as surgery following a mastectomy or other oncology-related surgical procedure (including plastic surgery), radiation or chemo therapy, infections, and other conditions listed below. Manual Lymph Drainage is also beneficial for several pathologies where regular heavy-handed massage can be contraindicated, such as fibromyalgia, scleroderma, cellulite, chronic fatigue syndrome, migraines, rheumatoid arthritis. MLD therapy speeds healing, assists in reduction of scars, swelling, cleanses fat deposits beneath the skin (cellulite), produces relaxing effects on the sympathetic nervous system, improves calming effect on the muscles, lymph flow, Immune system, detoxification and more. Call (919) 228-9559 to start your relief!